LUNEX University
LUNEX International University of Health, Exercise and Sports is a new university based in Differdange (Luxembourg) which opened its doors to students in April 2016. It is a private University focusing on sport & health with more than 800 students enrolled across the degrees at LUNEX.

LUNEX University and all taught bachelor and master programmes at LUNEX are accredited by the Ministry of Higher Education and Research in Luxembourg.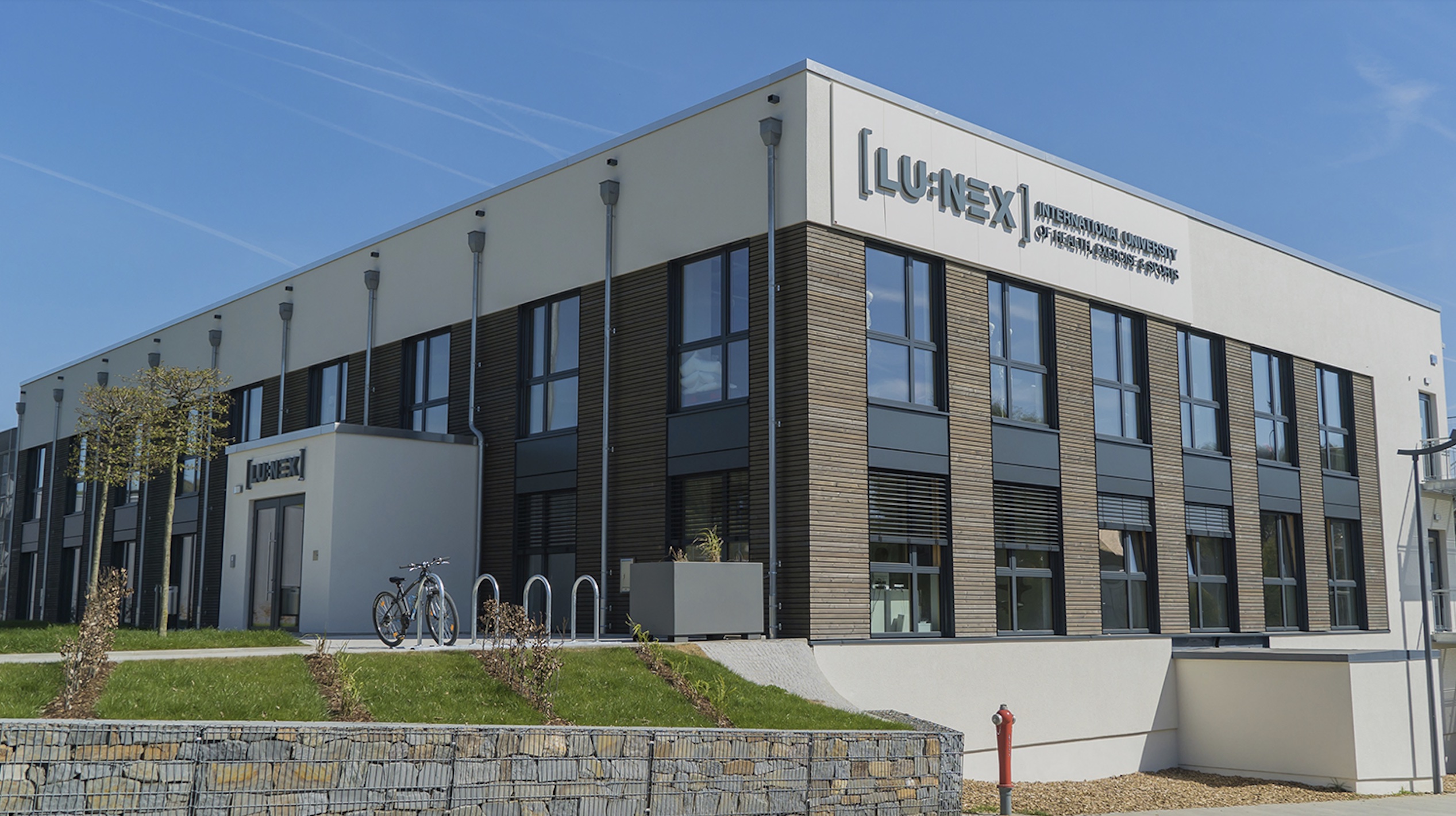 LUNEX University
‍© Sergio Marques Dias
Structured, high-level research
LUNEX is structured within 3 main academic departments of physiotherapy, sport & exercise sciences and sport management. Bachelor and master programmes are offered within each of these departments and all undergraduate and postgraduate classes at LUNEX are taught in English. There are 26 academic and 14 administrative members of staff and counts a total of 16 different nationalities among its staff.

LUNEX is developing four main research areas in Applied biomechanics & technology, Neurophysiology & motor control, Prevention & rehabilitation throughout the lifespan, and Sport management & innovation. The sport management and innovation research area at LUNEX University spans several key research domains in sport governance, digitalisation and innovation in sport, and social impact of sport. The mission of this research area is to promote, nurture and contribute to the development of research related to sport, management and innovation. It is LUNEX mission to develop and disseminate knowledge relevant to sport organisations and the broader sport industry to impact and influence the sporting landscape in Luxembourg, in Europe and globally. LUNEX staff have largely been involved in national and international research projects, notably on governance, anti-doping, digitalisation and innovation in sport.

Value-based and research-led education
Values are central to the quality of the LUNEX experience: inclusivity, integrity, passion, excellence, determination, and ambition. LUNEX provides a supportive, challenging and inspiring learning environment with strong values helping students to be motivated, to grow and to succeed, professionally and personally in order to gain valuable employability skills.

One enhancing the other, LUNEX is a university that equally values education and research. It aims to establish itself as a reputable institution that contributes to innovative research that is relevant to human health, human performance and the social, economic and cultural needs of society. It hence places strong importance on providing students with a transformative, high quality, evidence-based educational experience in the field of health, sport and sport management.

Partners and networks
LUNEX University is involved in a number of health, sport and management projects and work closely with a global network of experts, including sports organisations, clubs and associations, training centres, clinics, therapists and commercial enterprises. Strong partnerships with state authorities and scientific institutions are also maintained.

LUNEX partners support the educational programmes to become even more attractive, in implementing research projects, and in guaranteeing facilities of the highest standard. For instance, LUNEX collaborates with multiple institutions in other countries through numerous bilateral agreements.

GOALS key staff
At LUNEX University, the key academic staff involved in the GOALS programme are Professors within the department of International Sport Management. The courses dedicated to the programme are delivered within the Master in Sport Management and Digitalisation at LUNEX and covering the digital sport industry and events. The course will be delivered by academic experts and practitioners from the sport and digital industries.

Specialised course will focus on digital transformation in sport, acquiring digital skills, sport business analytics and sport event in digital environments. The students will also gain a thorough understanding of the opportunities for the sport industry through digital transformation. The teaching will be illustrated by examples encountered in the sport and leisure industry. It will be an advanced education that will allow graduates to impact the future of sport that inevitably will be related to digitalisation.

All professors are also recognised researchers, experts in their own field and work closely with international partners to contribute to further knowledge in sport management. They are part of the Sport Management and Innovation research area at LUNEX.